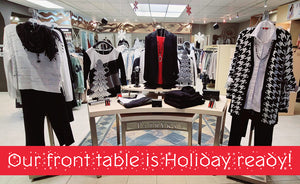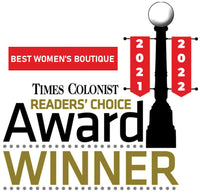 Serving Women's Fashion for over 40 Years
Patryka Designs is one of Vancouver Island's largest boutiques that offers an exciting unique collection of woman's fashions every season & is the proud winner of the Times Colonist Readers Choice Award for the best woman's boutique for the last 2 years.

Worth the trip to Mill Bay!
Customers Feedback...
I really enjoyed my visit last week and love my new garments. A big thank you to you and Danielle for your professional service. I look forward to my next visit and wish Patryka every success as you navigate the challenges around re-opening.
Thanks and warm regards,



Deborah
Simply the best shopping experience!
I had searched high and low for an interview outfit - from Victoria to a Duncan when it was suggested to me I go here. Now I've never been in as (sorry ladies!) I assumed it was for a demographic a bit older than me but it really isn't.
They have absolutely beautiful clothing and the service is outstanding! They have something for most budgets, from designer to local. They knew their stock and pulled everything I could want and I left with a beautiful outfit for under $150 which I was so impressed with!
And guess what? I got the job! Thank you ladies, you are outstanding and I wish every shopping experience was like dealing with you 

Sarah Crisp
Hi, First of all, thank you for the thoughtful Thank You card and Gift. It was a lovely uplifting surprise.  One of the reasons why I love to shop in PatrYka Designs is that you care. And, you all make each visit a wonderful experience. 

Joanne
Have been shopping at Patryka's off and on over the last few years. I have been working in retail for 40 years now and have seen it all...both from the retailer's and customer's point of view.
Patryka's has excellent stafff, always helpful and knowledgeable. They carry clothing and accessories from many Canadian designers and local artisans.
I love going in and browsing and am never disappointed as I always manage to find something to come home with.
It's a great place to shop in our kocal neighbourhood. Keep up the awesome work!

Penny Pilling
Dear Amazing & Loyal Customers
A big thank to you all for your continued support of Patryka Designs. We wouldn't be here without all of you!

We invite you to have a look and take advantage of promo code SHOPPATRYKA for your first online purchase.

If we don't have an item in your size or if you have any questions, just email us at patryka@shaw ca or call 250-743-3531.