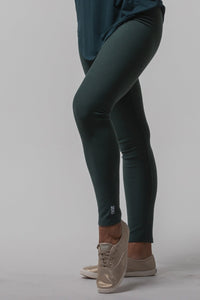 Our Bamboo Fleece Leggings are warm and cozy to keep your legs toasty all season long (but since they are bamboo are still breathable for those of us who are already toasty!). Perfect for those chilly days when you still love the legging look.Our soft and stretchy bamboo fleece is not too thick so won't add bulk or weight and has a smooth outside finish so they just look like regular leggings.  The super-soft waistband sits comfortably at the waist with no pinching.They have no side seams, making them sleek and smooth for a flawless fit, and now feature a small Modern print logo at the hem. One pair will not be enough! 
 Fit Information: Please see our size chart to find your correct size as our Leggings might not fit the same as other ones!
Fabric Content: 66% Rayon from Bamboo, 28% Cotton, 6% Spandex
Care Instructions: Machine Wash on a Gentle Cycle in cold water. Hang or lay flat to dry.